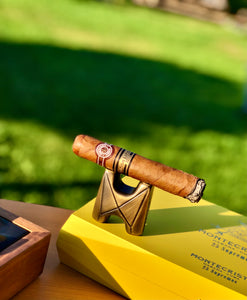 This specialized premium cigar stand is made of fine materials designed meticulously for cigar lovers who love the art of smoking.
Specifications:
Material: Made of Copper, resistant heat and rust, smooth surface, feel comfortable when holding in hand. It has a fabric material on the bottom that won't leave scratches behind.
Dimensions: 2" x 2" x 1" inches
Weight: 0.4 lb
Color: Vintage ~ Shown as picture
Features & Details:
Easy to use: This unique custom designed, free standing and pocket-size cigar stand is the perfect cigar accessory to bring anywhere. Engineered and designed in a way which will never break, and is easy to handle. This stand ensures your cigar will be positioned properly to keep a smooth and even burn. Keep your cigars from getting ashes on them, make you enjoying much pleasurable experience.
Application: With this nice portable cigar stand, you can place 1 any size cigar. Just having it sit around on your desk is a relaxation, imagine adding a cigar on top of that.
Gift idea: Superb craftsmanship and great addition to your cigar smoking room, a perfect holiday or birthday gift for cigar smokers. It's the perfect addition to every cigar smoker's indoor or outdoor smoking space to enjoy a pleasurable smoking experience.
Gift Packaging: This designer cigar stand is

 

beautifully packed in an elegant gift box that would please anyone on your list.