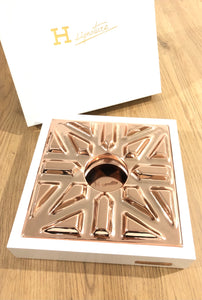 Enhance your environment and your cigar experience with this exclusive Limited Edition "Cobre Star" designer ashtray, created with a multiple cigar rest and designed to reflect iconic H Signature style referencing elegant refinement, industrial edge and artistic integrity.
"Cobre Star" is a true masterpiece that comes in a white Wood finish frame covered with a COPPER  PLATED tray.
A removable "H signature" COPPER PLATED round tray is centered below for easy clean up.

Limited Quantity: 20
A perfect addition to any cigar connoisseur's collection. Order yours with your lucky number as monogrammed with your name to savor and ash your cigar in style. 

The Inspiration for this Limited Edition design is based on the legacy of H signature as a brand.
For us, H signature has always been about quality, authenticity, tradition and elegance.